Being simple to reach
maximum sophistication.
The Synergy: Professional services plus SW Solutions.
All around the key roles that Ouvert embodies for its customers,
there's a close net of human expertise and automation which builds the skeleton of our Portfolio.
At the basis of Ouvert's Solutions there's the knowledge and application of all the relevant standards, recommendations and best practice for the Management of Energy Performances:
EXPERTISE PLUS AUTOMATION IMPROVE ALL BUSINESSES IN ANY MARKET.
Obvious as it may seems, the concept is not so commonly perceived as an organizational performance accelerator. At Ouvert, it is crystal clear that customers operating everywhere in any vertical market are seeking for innovative approaches to cost cuts and continuous improvement programs (read ISO 50001) and this implies providing on point advisory plus adaptive and flexible IT systems.
ENERGY MANAGEMENT and more specifically ENERGY EFFICIENCY MANAGEMENT are no exemptions to this and are perfect activities to be renewed and empowered .
Wherever the volume of managed data constantly increases, the complexity of analyzed systems and multi-factor impacted performances come to the forefront, that is the environment in which Ouvert's Solutions boost strategic decision and on time interventions.
The Energy Efficiency of any system is a dynamic status that varies due to several endogenous and/or exogenous causes; thus, the human capability to evaluate and interfere with these gigantic mutant dimensions is strengthened by SW to perform real time calculations, estimations and updates and extend room to define strategy and efficiency recovery plans.
To match this vital and primary need, Ouvert has designed its IT Solutions Portfolio that completes and complements Ouvert's Professional Services . The Proprietary IT Solutions are differentiated by operating scenario and specific managed energy related process. A unique trademark identifies and anticipates the core ability of the solutions meant to guarantee the advanced performances governance for Data Centers, Smart buildings, ICT/Telco & Multi-purpose Networks, Manufacturers' Premises as well as Invoice Management or the Innovative Energy Intelligence Web Portal for Large & Giant Enterprises. Ouvert's distinguished Customers are Leaders of the Italian Telco/ICT Operators Market, World Leader Telco/ICT  Vendors and Manufacturers. They all appreciate Ouvert's future-proof solutions which are designed to reduce management complexity, safeguard profitability and boost performances. A comprehensive Solutions' Panel clarifies the inner layered structure of each Solutions which makes it friendly and intuitive the understanding of components and macro-functionalities.
SMARTIFICATION is thus made a synonymous of intuitive control, aware pervasive management and sustainable evolution.
The Synthesis: Ouvert's Methodology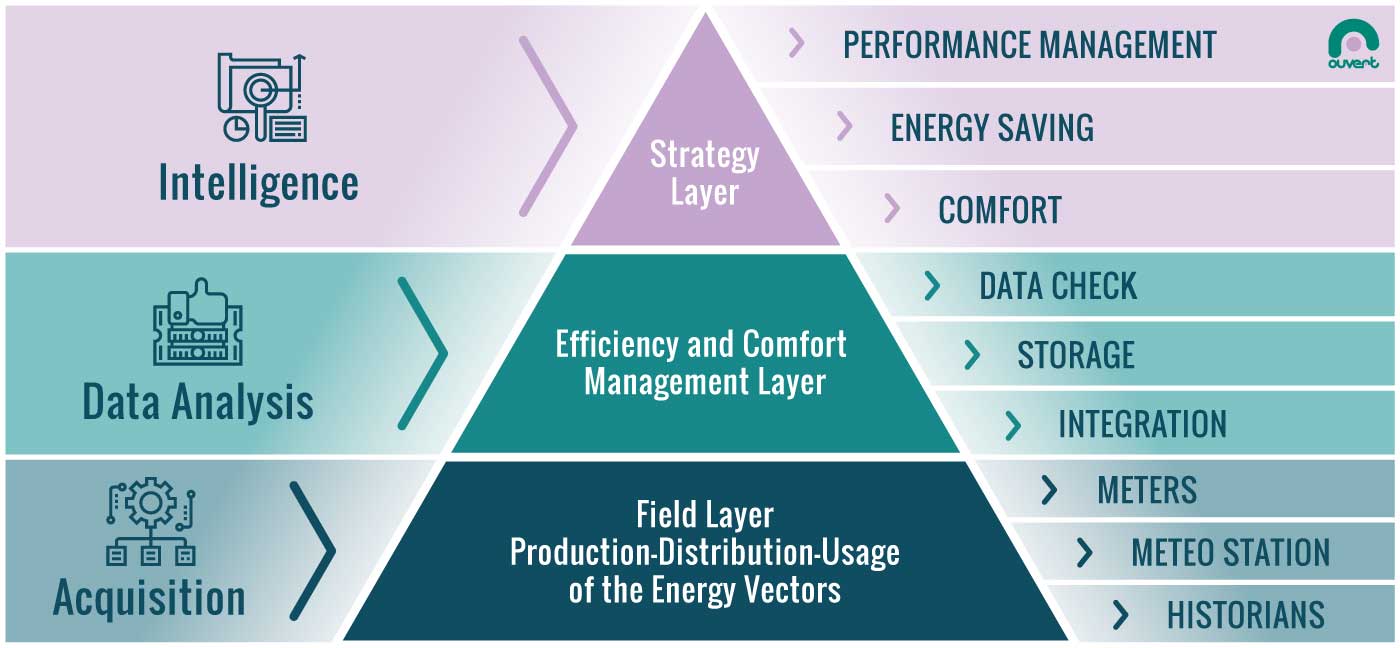 Ouvert's methodology implies full exploitation of available data produced by either existing or brand new Monitoring Networks and companies' historians. Ouvert aims at reducing the complexity of calculations and control thanks to the advanced automation implemented by its IT Solutions.
Flexibility and adaptability make it possible to create aggregations, reports ad dashboards necessary to investigate and evaluate the current level of efficiency vs the expected and mostly… TO TAKE ACTION.
OUR SOLUTIONS FOR THE ENERGY EFFICIENCY MANAGEMENT

Data Centers are the core of the next generation Smartified Society. Ouvert focuses on DC Energy Performance Management by merging site management expertise, engineering and automation in one integrated solution.

Ouvert enters the field of SMARTIFIED INFRASTRUCTURES MANAGEMENT. Performance Monitoring and Actuation are highly automated capabilities at Energy Managers', Facility Managers' disposal.

BASE is Ouvert's solution to address and implement networks of multi-purpose buildings (banks agencies, post offices, etc.) Energy Management.

EPLANT is the Industry 4.0 solution of Ouvert for the Energy Management.

A unique and flexible methodology the one that Ouvert applies to "ENERGY INQUIRY" the thousands of sites that generally compose a Mobile TLC Network.
Flex Item
Non verra visualizzato nella pagina
Non eliminare
OUR SOLUTIONS FOR THE PROCESSES MANAGEMENT

Thanks to Ebill it is possible to quickly manage, analyze and check energy invoices. A set of advanced features generate insights, compare energy budgets/invoiced amounts/actual consumptions data to improve energy supply management.

Digital Utilities are on their path towards an extremely interactive relationship with customers. EPIC is a web portal dedicated to Top /Large Enterprises' Managers who have to take decisions on big energy budgets, analyze scaring volumes of data and define corrective measures to generate savings.